Foo Fighters will be Letterman's final musical guest
David Letterman was late night's music champion – and these are his best guests.
After tonight, it will be all over but the crying — and it's anybody's guess who may be doing more of that — longtime fans, or the man and his staff. Throughout his career, Letterman has tempered his salty comedic side with a genuine, grin-inducing love for music, one evidenced by the bookings on both his NBC and CBS shows. When it first aired on September 18, 1985, the list wasn't just a collection of halfhearted zingers — it was far more conceptually bizarre than what we see on the show today. Due to the fog of history, the trolling of Letterman writers, or a bit of both, we have surprisingly little idea of who came up with the idea for the Top Ten List.
I had never been to New York City before, so when my wife and I planned an impromptu trip to The Big Apple back in July of 2009, she made a request for tickets to attend a taping of the long-running show. Before Letterman appeared on the late-night scene, it was fairly free of pop music; Tonight's bookers only brought musicians on occasionally, and tended to stick to a few known names (Steve Lawrence and violinist Itzhak Perlman). Tonight the iconic David Letterman bids farewell to the "Late Show" with his final episode ever, and many of late night television's biggest hosts can't help but reflect on the comedian and his impact on television over the last 22 years. Letterman was slow to add musical guests to his regular repertoire, but once he got going he got going, as this fiery three-song set by the Godfather of Soul shows – so kinetic that Letterman hastily canceled the night's last guest.
Late night talk shows that are usually filled with jokes, humor and wildly entertaining interviews took a more sentimental turn as hosts like Jimmy Fallon, Jimmy Kimmel and Seth Myers honored Letterman's creativity and unique brand of humor. Fallon thanked Letterman for his innovation in the late night genre before reminiscing about his first appearance on the "Late Show with David Letterman." A big kudos is in order to anyone who can watch the clip without getting a little choked up from Fallon's genuine appreciation. Having prearranged admission before leaving Canada, you really can't start to breathe easy until you've got the actual tickets in your hot little hands. Anything can happen on taping day — a freak infestation of holidaying killer bees, hotdog stand food poisoning, aging Paul McCartney fans threatening to pummel you with their Beatles memorabilia — it is a gauntlet of gnawing anticipation, as you watch the crowd gathering outside the Ed Sullivan Theater. In 1983 he booked a little-known quartet from the "fine college town" (and musical hotbed) Athens, Georgia, for their network television debut, which included a performance of "a song too new to be named".
Even Cleto, the head of Kimmel's band, got emotional about the "Late Show's" Paul Schaffer and his effect on Cleto's own musical background. But beyond all the squabbling, O'Donnell notes the most important distinction between the first Lists and what the List became: "Whatever it was, you can at least see that the first lists were not a bunch of jokes about John Boehner and Harry Reid. Kimmel brought him to the Toronto International Film Festival, where Guillermo gave the host a guided tour of the city, singing Céline Dion's "My Heart Will Go On." It was his asked him if he every smoked marijuanalist of things going through Ford's mind when Councillor Denzil Minnan-Wong (open Denzil Minnan-Wong's policard) asked him if he every smoked marijuana. No. 1: "Help me, Canadian Jesus." Dave introduced his mother, Dorothy, to the world for the 1994 Winter Olympics, dispatching her to Lillehammer, Norway, where she interviewed then-first lady Hillary Rodham Clinton and declined to sample reindeer meat. It wouldn't be the last time Dorothy would make a "Late Show" appearance, as Dave continued his wise policy of making Mom a member of his talent pool. "Wait till you hear what happened to me!" grinned Letterman upon his return on Feb. 21, 2000, after several weeks' absence.
Meyers paid homage to Letterman by recreating the legend's "Late Show" opening, an act that was both touching and admirable coming from another comic. When Cher appeared on Late Night with David Letterman in late 1987, she had just released her self-titled 18th album, which – thanks to stormy, rock-leaning tracks like the Michael Bolton-penned I Found Someone and the Jon Bon Jovi/Richie Sambora track We All Sleep Alone – introduced her to the MTV generation and brought her back to pop radio. But Letterman wanted Cher to go back to the old days, specifically the days when she and singer-turned-politician Sonny Bono were hosting variety shows and singing about their love. (They had divorced in 1975.) Cher, who had called Letterman an "asshole" the year prior, seemed reluctant to reprise their love-above-all hit I Got You Babe at first, but once she started singing, the old magic came back. Letterman's move to CBS coincided with the alt-rock explosion, and he eagerly booked up-and-coming bands that were able to benefit from his slightly earlier time slot.
It's a whole different thing." An extortion plot in 2009 spurred his on-the-air admission that he had been sexually involved with women on his staff, including a 10-minute explanation during which he owned up to his sins while disclosing he had helped in the arrest of the man who tried to blackmail him. His guest roster during that decade often nodded toward the Lollapalooza lineup – Sonic Youth, Radiohead, Tori Amos and even the reconstituted Sex Pistols showed up – but bless him for being the first American talkshow host to bring Pulp, then riding high off the class-strife anthem Common People, to television. Keeping your eyes peeled for gentlemen in pinstriped suits with cement buckets, we were relieved to discover that the next stop was the Roseland Theatre, directly across the street from legendary New York disco Studio 54, where we were sorted by groups into littler groups, to (at long last) find tickets to The Late Show in our sweaty palms. The appearance drew in eyeballs and sparked headlines. (The next year, Madonna told then-Spin publisher Bob Guccione Jr that Letterman was in on the joke.) Six years later, around the release of her album Music, Madonna returned to the show for the first time since that notorious interview, and neither party shied from discussing it, although they did cut down the shenanigans enough so that Madonna could run through her then-recent single Don't Tell Me – unplugged, at that. We were about one and a half meters from red-headed announcer Alan Kalter — 6 from Letterman himself while he was sitting at his desk with Sir Paul after his opening monologue.
One of those tapings was, of course, the Beatles' 1964 debut on US television, which fueled Beatlemania on this side of the pond and became an iconic moment in American pop-cultural history. During what wound up being a mini concert, he ran through the chugging Get Back and a track from his cacophonous project The Fireman, as well as the McCartney II chestnut Coming Up and the Wings classic Band on the Run. It helped too that the song was (and is!) pretty great, tempering its new wave lushness with Herring's singular marriage of impassioned balladry and guttural bellowing. The similarly irascible poet laureate of boomer rock, Dylan offered up his take on the old standard The Night We Called It a Day, which he also performed on his 2015 album Shadows in the Night. So, not only did I attend a filming of David Letterman's enduring show, I also had the opportunity to see Paul McCartney make his first return visit to the site of one of the most memorable TV broadcasts of all time.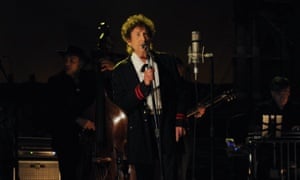 Share this article: