'Finding Dory' trailer: Here's a preview of the highly anticipated Pixar sequel
'Finding Dory' trailer released by 'The Ellen DeGeneres Show'.
• Gabriela Cowperthwaite, the director of the documentary "Blackfish," is skeptical of SeaWorld San Diego's announcement that it will phase out its orca show — though she said that if the orca shows are stopping, "this has been one helluva day." [The Hollywood Reporter] WHEN PIXAR director Bob Peterson worked on "Finding Nemo," he once told The Post's Comic Riffs, he got to enjoy up-close a couple of his favorite cartoon voices ever. "Albert Brooks has such great comic timing … ," Peterson, who co-wrote 2003's "Finding Nemo," told me. "And one of my favorites is Ellen DeGeneres. … She figured out her own 'whalespeak.' She was great." Much has changed in the intervening dozen years, and in other ways, not so much.
Back when Pixar cast DeGeneres to voice Dory in the Oscar-winning "Nemo," her career had bottomed out and good performance gigs were hard to come by, she recalled in 2012 upon coming to the Kennedy Center to pick up her Mark Twain Prize for American Humor. Dory's parents are voiced by Diane Keaton and Eugene Levy. "Modern Family" co-stars Ed O'Neill and Ty Burrell are reportedly part of the voice cast and Ellen DeGeneres and Albert Brooks reprise their roles as Dory and Marlin. She remembers, "My family – they're out there somewhere." The trailer also shows that Dory has a habit of "sleep-swimming," which means neighbors Marlon (Albert Brooks) and Nemo (Hayden Rolence) have to keep an eye on her. "Finding Nemo" was a relatively early release for the studio. What a difference the intervening years have made: Besides receiving the Twain, DeGeneres has winningly hosted the Oscars (which included shepherding the most retweeted group selfie ever) and, since 2004, has won a raft of Daytime Emmys for her juggernaut of a talk show. Before 2003, Pixar had released "Toy Story" and "Toy Story 2," both box office hits and hits with reviewers, as well as "A Bug's Life," which had a modest box office gross and a mixed critical reception. "Monsters, Inc." had also come out and done quite well at the box office and with critics. "Nemo," however, blew the others out of the water (sorry).
And this morning, on that talk show — DeGeneres debuted the trailer for the much-anticipated "Nemo" sequel, "Finding Dory," which will land next June. It became the highest-grossing Pixar film released so far and was the highest-grossing computer animated movie of all time until "Shrek 2" came along the next summer. Then another smash came with "Toy Story 3," which was released in 2010 and is still the highest-grossing movie released by Pixar. "Toy" also earned a Best Picture nod. Since "Monsters University" and "Cars 2" were not critical hits, animated movie fans may have worried that Pixar's creative standard was slipping.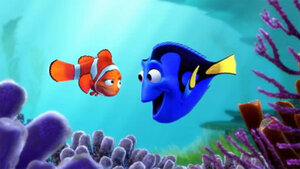 The studio's on top of the world following this summer's original story "Inside Out," however. "Inside" scored with critics and is in the top five of the highest-grossing movies this year so far. Pixar president Ed Catmull previously stated a plan to do "an original movie a year" and the studio will actually release two this year, with "The Good Dinosaur" due later this month. "Dory" is the only movie set for 2016 right now, then 2017 will find the studio releasing "Cars 3" and a film called "Coco." "Inside" was certainly a good sign for fans fearing Pixar's movies were in a creative slump and that the studio was focusing more on sequels.

Share this article: