Did "The Walking Dead" just "Jon Snow" one of its original characters?
'The Walking Dead' recap: Zombies take their toll in shocking development.
Television fans were shocked at the conclusion of Sunday's episode of "The Walking Dead" when Glenn Rhee (Steven Yeun), just the second character introduced in the show's pilot nearly five years ago, appeared to be torn to pieces by a zombie horde. In the heart-stopping sequence, Glenn and Nicholas – who had previously attempted to murder him – scrambled on top of a dumpster while the zombies closed in all around them.

With nowhere to go, Nicholas turned to Glenn and thanked him for giving him a second chance – before putting his gun to his own head and pulling the trigger. Yet the series still occasionally needs to be reminded – and to remind its audience – of that fact, making death mean more than just artful blood spurts and the unsettling prospect of being eaten alive. Foremost in their argument is the fact that Yeun did not appear on the episode of "Talking Dead," a post-"Walking Dead" discussion show hosted by Chris Hardwick, as is tradition for characters who are killed off of the show. Additionally, during "Talking Dead's" "In Memoriam" section, during which Hardwick recognizes all of the characters, zombies included, killed in the episode, Rhee was notably absent and in his place, a graphic repeating "Please don't let this be true" aired. Rick orders Glenn and katana-wielding Michonne (Danai Gurira) to rush back to Alexandria, even if they must abandon some of their companions with less-developed survival instincts.

Because while the second episode of the new season felt gratuitous and unnecessarily grim – like an eruption of violence mostly for its own sake, or even to kill time while giving several key players the week off – the latest installment made viewers feel those deaths, even for peripheral or unidentified players. Glenn—the Master of Runs, half of TWD's best love story, and a general badass—went out trying to protect a group of hapless people who maybe didn't even deserve to be saved. While taking refuge inside an abandoned pet shop, Glenn concocts a risky plan that involves luring the walkers in a new direction by setting fire to a feed store.

Then you don't know,' She spat. 'Good luck dumbass' Glenn told him on the radio – the last words they would exchange, and a throwback to the very first conversation they had via walkie talkie in the first episode. 'Dear fans of The Walking Dead, this is a hard story to tell and when we were planning to tell we knew our friends at the Talking Dead would be talking to you about it and knowing you'd all be talking, and feeling and commiserating, I knew we should say something about it lest our silence say something we didn't mean to say or not say,' host Chris Hardwick read. 'So I'll say this: In some way, we will see Glenn, some version of Glenn or parts of Glenn again, either in flashback or in the current story to help complete the story.' Although much of the discussion in its wake (and SPOILER ALERT if you haven't watched) will focus on the apparent this-might-break-the-Internet killing of Glenn (Steven Yeun), one of the beloved originals from the first season, the entire episode deftly dealt with sacrifice. In the process, the hour sought to make the audience feel something even for those who hadn't been around that long and might have lacked the requisite fortitude and grit to survive. An unlikely volunteer for this nearly suicidal mission is Nicholas (Michael Traynor), a supply runner whose cowardice led to the horrific death of Glenn's friend Noah (Tyler James Williams) in Season 5. Fans were certain that this couldn't be the end of Snow's story and persist to believe that he'll find second life somehow, a not wholly unreasonable thought, given the show's universe.

But while that encounter offered a chance to further explore the characters – and show off Carol (Melissa McBride) at her ruthless best – the prolonged nature of the assault did seem to turn the people who were dying into simple cannon fodder, faceless victims to be bludgeoned or skewered. Glenn prevailed despite being wounded, however, and magnanimously spared Nicholas' life. "You're not that guy anymore," Glenn says, believing Nicholas has evolved into a better person. By contrast, this third episode, titled "Thank You," built on the central theme of these last two seasons – namely, whether the battle-hardened core cast can be integrated into the sheltered community they've found, and to what extent the latter will have to be toughened up in order to survive (and, indeed, be worthy of protection).

As Rick (Andrew Lincoln) bluntly said near the outset, not everyone would complete the trek back, and sentimentality is the kind of thing that can get you killed. Those ranged from the newlywed who, knowing he was doomed, wrote a note to his wife; to the anonymous attacker discovered to have a jar of baby food in his pocket.

Suddenly, via that one shot, the latter sequence took on a completely different, more sobering tone: So did the guy really try to kill Rick because he was trying to get food for a baby? Rick does get a reply from Sasha Williams (Sonequa Martin-Green) and Abraham Ford (Michael Cudlitz) as they slowly drive away from Alexandria at the front of a massive zombie "parade." Rick's challenges are soon magnified, however, when two Wolves sneak into the RV and try to shoot him. It may be a farfetched theory—with a horde this large, it's very unlikely the walkers wouldn't be able to smell Glenn (who wasn't exactly being silent) or, at the very least, take a chunk out of his leg. It's also, more pragmatically, a good way to inform actors and their agents that nobody is bigger than the show's overarching world, while providing a more graceful and organic way to shed those eager to move on to new roles than, say, having a truck hit McDreamy. (For what it's worth, showrunner Scott M. Gimple's statement about Glenn's fate was cryptic at best, and thus more irritating than illuminating.) Viewed together, these last few episodes have demonstrated the show's sometimes-uneven storytelling approach, which counts on the audience's enormous loyalty to ensure people will stick with it through even its most questionable detours.

Kirkman told fans to expect "a lot of cool stuff" with Glenn and Yeun said, "The way that we make the show — the writers and everybody really want to focus on making things poignant and purposeful and meaningful. Considering less important characters like Tyrese and Merl had more heroic and honorable deaths, it seems unlikely that the show runners would kill Glenn in such an offhanded way. Usually exiting actors show up to give the show an emotional goodbye. (We're still processing Emily Kinney's goodbye appearance.) In fact, during The Talking Dead's post-mortem segment, where they usually list all the characters that died in a given episode, Glenn's name was also absent.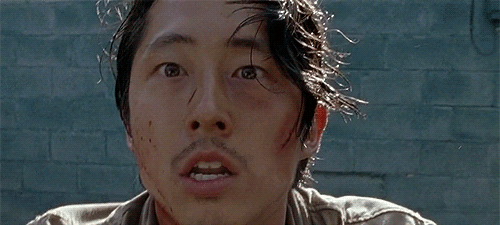 Share this article: