'Dheepan' wins Palme d'Or, top honor of Cannes Film Festival
Cannes 2015: baffling set of prizes take the edge off a great competition line-up.
AFTER nearly two weeks of stirring, sleek and thought-provoking movies — and a couple of duds — the Cannes Film Festival closed overnight with an awards night to declare the winner of its coveted Palme d'Or.Just as last year, the jury gave its ultimate acclaim to a brilliant director who has accumulated an overwhelmingly deserving reputation but had actually given us something less than his very best work. US directing duo the Coen brothers headed this year's jury of top actors and filmmakers deciding which of the 19 competition entries will walk away with the 20,000-euro ($24,000) gold-and-crystal trophy.
A Tamil Tiger fighter gets out of Sri Lanka, with a woman and a child who are strangers to him and to each other, by posing as a genuine family with a trio of stolen passports bought from traffickers. In a surprise decision, the Cannes jury split the best actress award between up-and-coming Hollywood star Rooney Mara and France's Emmanuelle Bercot, bypassing bookies' favourite Cate Blanchett. They wind up on a tough estate in France as asylum seekers and a strange and fascinating dynamic starts to emerge within this phoney family, and the warrior finds that his belligerent skills and instincts come back into play in a drug turf-war. Mara took the prize for her part in 1950s lesbian love story Carol, starring Blanchett, while Bercot was awarded for her part in Mon roi (My King), in which a woman looks back on a destructive relationship with a deceitful but charming boyfriend. All that is excellent in Audiard is present in the film: his flair, his style, his brio, the sheer panache with which he swoops in on detail and leaps back for the bigger picture.
Talented, gruff and a former squeeze of Monaco's Princess Caroline, French character actor Vincent Lindon scooped the best actor award for his role in a tough drama about unemployment. As countries around the world grapple with an influx of people fleeing global crises, a jury led by Hollywood filmmakers Joel and Ethan Coen chose the gritty picture by acclaimed French director Jacques Audiard among 19 international contenders. Laszlo Nemes's Son of Saul gets the Grand Prix: I was guessing the director's prize, but it is right that this very remarkable picture should be garlanded — a searingly powerful and unflinchingly rigorous and passionate movie about the unthinkable and unimaginable: the day-to-day business of horror at a Nazi death camp. The second is The Assassin from the great Taiwanese auteur Hou Hsiao-hsien, whose best director award for The Assassin honours a film-maker who has a hard-won reputation for brilliance and for artistry; the purest artistry, perhaps, to be rewarded at Cannes this year.
I found this refined wuxia tale of an assassin who finds a conflict between duty, family and love to be a wonderfully made film, and genuinely beautiful – though one has to be careful using that adjective which is so often a hesitant euphemism for unengaging. And what about Carol, by Todd Haynes, the glorious, sensually immersive and trance-inducing film which I – for what it's worth – was tipping for the big prize?
It is entirely understandable that Cannes should wish to reward Rooney Mara for her fiercely observed and controlled performance in Carol which really was excellent, though in my view less fine than Zhao Tao's magnificent contribution to Jia Zhang-ke's Chinese epic Mountains May Depart. And that Rooney should have to share it … well, yes of course, sure, let her share it by all means with Cate Blanchett who was, arguably in fact, the senior thespian partner in this passionate love story. But that the second half of the prize should go to Emmanuelle Bercot for her frantic, mugging, self-congratulatory turn in Maïwenn's unwatchably awful Mon Roi is staggering.
It was, quite simply, ham acting; or perhaps it is truer to say it was indifferent acting whose negative qualities were brought out by a ropey script and hamfisted directing. Yorgos Lanthimos's The Lobster got the jury prize: a movie about which I was agnostic: a brilliant absurdist comedy in its first half with some dazzling satire about modern society's reverence for relationships and coupledom. The screenplay prize for writer-director Michel Franco's Chronic is a rather interesting and shrewdly judged choice: perhaps the best choice of the evening.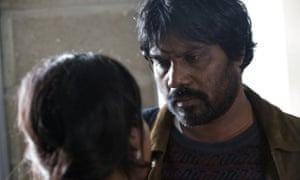 This was a movie which withheld its meanings, and distributed clues and hints around the screenplay, it allowed the audience to experience a kind of drip-feed of meaning, which became a sudden, shocking deluge in the semi-intentional event which forms its catastrophe.

Share this article: