Coroner Examining BB King's Body After Allegations He Was Poisoned
BB King's daughters allege singer was murdered, autopsy performed.
The Clark County coroner's office in Nevada is investigating claims that blues legend BB King was poisoned, but coroner John Fudenberg said there was no immediate evidence to support the allegations.An autopsy has been performed on legendary blues singer and guitarist BB King, following accusations from his daughters that he was poisoned by his own staff. King, the guitar legend and King of the Blues, died earlier this month at the age of 89, under hospice care, and after surviving numerous health scares over the years. Karen Williams and Patty King, two of King's daughters, have said in separate affidavits provided to the Associated Press that their father was poisoned. "I believe my father was murdered," both women said.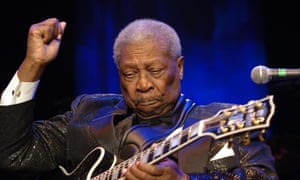 They are accusing King's business manager, LaVerne Toney, and his personal assistant, Myron Johnson, for having intervened in ways that led to their father's death; Johnson was by King's side when he died, while Toney is the executor of his estate. Test results from an autopsy performed Sunday will take eight weeks to be processed, but police say there is no active homicide investigation, and an attorney for B.B. Disputes among family members and friends in the wake of a high-profile death have been sadly common in recent months; Casey Kasem's remains were at the center of a famously bizarre battle between his wife and children, and Robin Williams's wife and children also were at odds over his estate before agreeing to settle privately. Both said they believed that King was "murdered" and was administered "foreign substances", but three doctors have reportedly asserted that King was properly cared for in the days leading up to his death, when he received round-the-clock health monitoring.

He criticized the decision to conduct an autopsy on King's body. "He made the decision to return home for hospice care instead of staying in a hospital," Bryson told the Hollywood Reporter. "These unfounded allegations have caused Mr King to undergo an autopsy, which is exactly what he didn't want." In both October and April, Nevada police and social services investigated whether Toney should be removed as King's guardian, Clark County family court hearing master Jon Norheim said in May, but found no reason to revoke guardianship. A petition alleged that Toney had blocked King's friends from visiting him, that large sums of money had disappeared from the singer's bank accounts, and that Toney had added her family members to King's payroll. A procession and memorial are scheduled in Memphis on Wednesday, followed by a Friday viewing and burial in King's hometown of Indianola, Mississippi. Born Riley B King in the Mississippi delta on a cotton plantation, BB King spent his early 20s in Memphis, Tennessee, where he moved to pursue a career playing the blues.
He is largely credited with bringing blues to mainstream rock and roll, and was often called "king of the blues" and "ambassador of the blues". He started his career touring on what was called the "chitlin' circuit" of small bars in the Jim Crow south ("chitlin'" or chitterling refers to the soul food dish made of the small intestines of pigs, often sold at the clubs).
Share this article: