Coldplay Debut Game Of Thrones Musical On Red Nose…
Chris Martin v George RR Martin: watch Coldplay's Game of Thrones Musical.
Wise words spoken by Ygritte herself, Rose Leslie, in last night's hysterical "Game of Thrones" spoof featured on NBC's three-hour charity telecast, "Red Nose Day." The "GoT" cast came together (albeit not all at once, and certainly not until Kit Harington – whom Martin kept calling "Jon Snow" – got involved) to help Coldplay stage a Westeros-worthy musical based on the HBO phenomenon. It's all been rather downbeat in Camp Chris Martin of late: the divorce, the subsequent songs about the divorce, the (alleged) fending off of beautiful young Hollywood a-listers.This sketch for the US debut of Red Nose Day is actually really very funny as Martin's first attempt to get the musical off the ground flops when only two actors show up.
But perhaps they should have trusted their initial instincts to not participate, because not only was the end result a hot mess, but "A Song of Ice and Fire" series author George R.R. Harington shows off his rock star swagger with a cover of Wild Thing with the title changed to Wildling while Emilia Clarke becomes Rastafarian Targaryen. Entitled Game Of Thrones: the Musical, the band's most important venture yet includes Coldplay's "first romantic song about incest" and Khaleesi singing a reggae track. Other highlights include Nikolaj Coster-Waldau singing an epic power ballad and Peter Dinklage crooning an ode to all the dead Game of Thrones characters. George R Martin meets Chris Martin, what could go wrong?" says Clarke just before the video pans to her in studio, rasta hat on, laying down some smooth vocals.
At first, actress Emilia Clarke (Daenerys Targaryen) dismissed Coldplay's project as like the "Titanic – but not in terms of the successful movie, in terms of the unsuccessful boat." And the only "GoT" actors the band could get to show up consisted of Mark Addy (Robert Baratheon) and Iwan Rheon (Ramsay Bolton). The tongue-in-cheek parody aired last night as part of the charity telethon, which also featured a host of other stars including Benedict Cumberbatch, Matt LeBlanc, Robert Pattinson, Simon Cowell, Gwyneth Paltrow, Chris Pine, Julianne Moore, Sam Smith and Jennifer Aniston. But eventually, thanks to Harington's involvement (and the offer of free food), other cast members agreed to participate, and Clarke was persuaded to lend her pipes to the song "Rastafarian Targaryen." Soon enough, Nikolaj Coster-Waldau recorded the emotional ballad "Closer to Home," a love song from Jaime Lannister to his beloved sister, Cersei (sample lyric: "Are you thinking about Joffrey/Such a spirited lad/I was his uncle, but I was also his dad"). Watch it below. "I'm a Rastafarian, Targaryen / I got some dragons and they are very scary / Been here and there and then I been everywhere again" sings Khaleesi as she busts some serious moves. Clarke has played the mother of dragons Daenerys Targaryen in the hit HBO fantasy drama since the first season and has yet to be knocked off unlike many other unfortunate characters.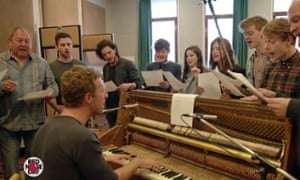 Earlier on in the week Peter Dinkladge took to the stage to perform "A Man of All Seasons (still Going Strong)", a song about his staying power in the show. "Characters get cut for various reasons/ Some people's parts just ain't very long/ But not me, I'm still going strong!" were just some of the golden lyrics dropped by the Lanister dwarf.

Share this article: