Cannes 2015: Cate Blanchett Loses Best Actress to Carol Co-Star Rooney Mara
Audiard's 'Dheepan' wins Palme d'Or in upset Cannes finale.
Jacques Audiard has cemented his place as the premier contemporary French director by winning the Palme d'Or in Cannes for his seventh feature, Dheepan.CANNES, France (CNN) — Comeback stars, the darlings of the festival, standing ovations, and incessant booing: the Festival de Cannes has delivered entertainment on and off screen for an astounding 67 years. In the picture by acclaimed director Jacques Audiard (who made 2009's "A Prophet"), Anthonythasan Jesuthasan plays a former Tamil Tiger fighter fleeing the mayhem of his war-ravaged homeland. His new film is a less-starry affair than those two; the tale of a former fighter in the Sri Lankan civil war trying to make a new life in France with a fake family.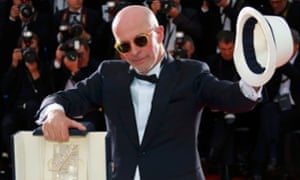 Once they arrive in a rough housing estate on the outskirts of Paris, Dheepan must use his battlefield experience to keep the three of them safe from drug gangs waging a turf war. While the dapper French filmmaker has drawn widespread acclaim for films such as "A Prophet" and "Rust and Bone," some critics were disappointed by the thriller climax of Audiard's film. "Dheepan" is about a trio of Sri Lankans who pretend to be a family in order to flee their war-torn country and are settled in a violent housing project outside Paris. "This isn't a jury of film critics," Joel Coen told reporters after the awards ceremony, alongside fellow jurors like Guillermo del Toro and Jake Gyllenhaal. "This is a jury of artists who are looking at the work." The win for "Dheepan" comes at a time when Europe is particularly attuned to the experience of immigrants, following the recent deaths of hundreds crossing the Mediterranean, seeking Italian shores. It was a night of surprises at the 68th Cannes film festival, with many critics' favourites thwarted and the jury – who are only allowed to award one prize per film – exhibiting eclectic taste and a pronounced accent on the celebration of French acting talent. After three terrifying years, he managed to escape to Thailand before travelling in 1993 on a fake passport to France, where he was eventually granted political asylum. "I came to France because at the time I was able to only find a fake French passport and not a fake British or Canadian passport," Anthonythasan said, noting how difficult it had been to learn the French language.

Todd Haynes' movie about two American women in love during the 1950s was a huge hit with critics and set the benchmark for the festival early in the program. This year's Grand Prix went to 38-year-old debut director László Nemes for Son of Saul, the Auschwitz-set story of a prisoner working as a Sonderkommando, guiding Jews into the gas chambers and then disposing of their bodies. He was joined by the makeshift parents of his film: Kalieaswari Srinivasan and Antonythasan Jesuthasan, who himself was Tamil Tiger child soldier before finding political asylum in France. "To receive a prize from the Coen brothers is exceptional," said Audiard, who added that only receiving one from the Luc and Jean-Pierre Dardenne, the Belgian filmmaking siblings, could equal it. Bookies' favourite The Lobster, a British co-production directed by Greek film-maker Yorgos Lanthimos, took the Prix du Jury (or third prize) for his satire about single people who must find a mate within 45 days or be turned into a wild animal.

Anthonythasan worked odd jobs until he began writing in the late 1990s, churning out short stories, plays, political essays and, most recently, novels inspired by his traumatic experiences in Sri Lanka. He took a break from writing to appear in Audiard's movie, before which his acting had mainly been limited to propaganda street theatre for the Tamil Tigers and later, a bit role in an Indian movie.

Some expected Nemes' horrifying plunge into the life of an Auschwitz worker to take the top award, but it's been 26 years since a debut film (Steven Soderbergh's "Sex, Lies, and Videotape") was given the Palme. English actress Sienna Miller and Canadian actor Xavier Dolan, both jury members, sounded especially moved by "Son of Saul." Miller called it "breathtaking" and an extraordinary accomplishment for a first-time filmmaker. Beyond the movie, her appearance at the film's press conference in Cannes revealed an assured, eloquent woman fielding questions about her personal and professional life with wisdom and humor. Rooney Mara took the gong for her role as an inexperienced shopgirl in 1950s New York who begins a relationship with Cate Blanchett's unhappily married mother-of-one.

Hou Hsiao-Hsien, the masterful 68-year-old Taiwanese filmmaker, won best director for his first feature in eight years: "The Assassin," a lushly painterly martial arts drama. Haynes, accepting the award in Mara's absence, said both he and she were "completely blown away and surprised" by the honour. "I love you, I wish you were here," he said. It was given to both Rooney Mara, half of the romantic pair of Todd Haynes' '50s lesbian drama "Carol," and Emmanuelle Bercot, the French star of the roller coaster marriage drama "My King." (Bercot also directed the festival opener, "Standing Tall," about a delinquent teenager.) Any split was presumed to go to Mara and her "Carol" co-star, Cate Blanchett.
And Pixar's Pete Docter — whose Oscar-winning animated epic Up opened the 2009 Cannes festival — returned to even greater acclaim with Inside Out, a charming and hilarious depiction of a testing chapter in a young girl's life seen through the emotions inside her mind. Veteran French star Vincent Lindon earned prolonged applause as he took the stage to pick up the best actor award for Stéphane Brizé's The Measure of a Man, in which he plays a man crushed by his job as a supermarket security guard. Lindon beat the likes of Michael Caine (for Paolo Sorrentino's Youth), and Tim Roth, who plays a traumatised palliative care nurse in bleak drama Chronic.
The visibly moved Lindon won over some big-name competition, including Michael Caine, the star of Paolo Sorrentino's unrewarded "Youth," a wry, melancholy portrait of old age. Yorgos Lanthimos, a Greek filmmaker working in English for the first time, took the jury prize for his "The Lobster," a deadpan dystopian comedy, starring Colin Farrell and Rachel Weisz, about a near-future where unmarried singles are turned into the animal of their choice. "Chronic," an understated drama about a home-care nurse (Tim Roth) for the terminally ill, took best screenplay for Mexican writer-director Michel Franco. Franco and Roth met three years ago when Roth, serving on a Cannes jury, helped award Franco the Un Certain Regard prize. "It's a Cannes story," said Franco. But it lost out to Rams by Icelandic director Grimur Hakonarson, who took the top prize in the Uncertain Regard section with a tale of two elderly brothers whose 40-year dispute is reluctantly put on hold by a threat to their sheep farms. The Camera d'Or, Cannes award for best first feature film, went to "La Tierra Y la Sombra." César Augusto Acevedo's debut, which played in the Critics Week section, is about an old farmer returning home to tend to his gravely ill son.
The Coens themselves took the Palme in 1991 for "Barton Fink." The last two Cannes winners have been three-hour art-house epics: the glacial Turkish drama "Winter Sleep," chosen last year by Jane Campion's jury, and "Blue is the Warmest Color," as picked by Steven Spielberg's jury. But Cannes can make and break reputations and his latest film, Sea of Trees, was roundly panned by critics here — booed at the press screening and barracked in the reviews that followed. After his speech, Augusto continued the musical theme of this year's ceremony by leading the audience in a rendition of Happy Birthday to Reilly, who turned 50.
Some of the films that drew the biggest raves ("Mad Max: Fury Road," Pixar's "Inside Out") played out of competition, while some in it (like Gus Van Sant's "The Sea of Trees") drew loud boos. Best director went to Taiwanese film-maker Hou Hsiao-hsien, whose martial arts epic The Assassin marks his return to cinema after an eight-year absence. The festival was dominated by discussion about gender equality with many — from Blanchett to Jane Fonda — speaking about female opportunity in the movie business. "You hope it's not just the year," said Blanchett of the attention to women in film. "It's not some sort of fashionable moment." An honorary Palme d'Or was also given to French filmmaker Agnes Varda, the first woman to receive one and only the fourth director after Woody Allen, Clint Eastwood and Bernardo Bertolucci. The Cannes audience is notoriously vocal — equally capable of delivering a 15-minute standing ovation or walking out after the first 15 minutes of a film.
One particularly offended critic stormed out of a screening shouting "F**k you and your slow movie!" The naysayers wield a disproportionate amount of influence as a handful of people booing among a largely appreciative audience leads critics to write the damning words "mixed reception." The media camped at Cannes had a field day with this scandal. Artistic director Thierry Frémaux's programme was at pains to promote homegrown talent, with nine of the 19 competition films either French productions or co-productions, and US and UK directors thin on the ground. The story was broken by Screen Daily, which reported that a number of women had been turned away from the movie Carol for wearing flat shoes instead of high heels. But although there has been an absence of high-profile turkeys such as last year's opener, Grace of Monaco, the number of flat-out classics was also been felt to be down.
Documentary director Asif Kapadia (whose film Amy about the late singer Amy Winehouse was a big hit at the festival) revealed his wife had also been challenged about her footwear, but was eventually admitted. Last year's festival saw the premieres of Leviathan, Winter Sleep, Mr Turner, Jimmy's Hall, Foxcatcher, Wild Tales, Clouds of Sils Maria, Mommy and Two Days, One Night. The story spread like wildfire on traditional and social media, with many citing the festival's dress policy and low number of female directors in competition as evidence of sexism. "Not so," responded festival director Thierry Fremaux, who explained that women were expected to don evening dress and the policing of heel height lay at the feet of one overzealous security official.
Emily Blunt told a press conference she would prefer to walk the carpet in Converse sneakers — but at the premiere of her film Sicario a few hours later, she wowed the paparazzi in a long shiny dress offset by a pair of high, shiny heels. A growing number of festivals, museums and visitor attractions are banning the selfie stick, and Cannes entered the debate from the outset when Fremaux announced a campaign to discourage selfies on the red carpet, describing the practice as "grotesque." But his words fell on deaf ears as the stars ignored the advice and couldn't resist the temptation to document their moment on the famous Cannes catwalk. While many critics lavished praise on Michael Fassbender and Marion Cotillard for their performances in Macbeth, the titular Scottish titan mumbled the Bard's lines so much that English speakers complained they were forced to read the French subtitles to understand what he was saying. Any murmur is quickly cut short by a determined "Shhhhhh!" One unfortunate soul had the temerity to sneeze during one slow-paced film and was met by an immediate wall of shushing.
Share this article: