Box Office: 'Burnt,' 'Our Brand Is Crisis' Fizzle Over Slow Holiday Weekend
'Our Brand Is Crisis' star Sandra Bullock: 'Politics have always been a comedy/tragedy'.
At least that's the story from producer Grant Heslov and director David Gordon Green, whose political satire "Our Brand Is Crisis" is now in theaters.Bradley Cooper cooking dramedy 'Burnt' is also getting scalded as Halloween weekend brings more bad news at the North American box office, where 'The Martian' will stay at No. 1 in its fifth outing.Given Sandra Bullock's impressive record at the box office, you might have thought people would be falling over themselves to write plum parts for the Oscar-winning actress.Academy Award winner Sandra Bullock plays a political spin doctor in satirical comedy "Our Brand is Crisis," taking a look at the tactics of election campaigns.
Not even the specific world of election manipulation that the film skewers with comedy. "It takes you two years to make a film," Our Brand co-producer George Clooney says, "so we're reacting to things that have happened before and we're holding a mirror up to society." "I tend to agree with George on this," Thornton says in a one-on-one interview. The film starring Sandra Bullock (inspired by the 2005 documentary of the same name) focuses on American political operatives — strategists, marketers, spin doctors, image consultants — who join the campaign of a Bolivian presidential candidate. Heslov — who with producing partner George Clooney has delivered politically themed films like "Good Night, and Good Luck" and "The Ides of March" — said he was born to political awareness. "It comes from my folks, who were always politically active," Heslov said in a recent phone conversation from Los Angeles. "And also it just comes from my own civic curiosity, my passion for how things are run.

Are there any male roles out there that they don't mind switching to female, as long as it works?'" says the actress. "You put that out to the powers-that-be, and they went to George and said, 'What about this? Sandra Bullock stars as Bodine, a one-time master campaign strategist, now six years retired from a life of skullduggery, rehab stints and an unflattering nickname – Calamity Jane – and content to sculpt mediocre pottery in solitude. "I'm calm," she says in the kitchen of her cabin, located deep in a snowy mountainside nowhere, the type of statement that can come back and bite a person in the ass.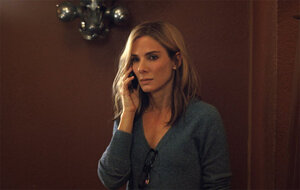 Of course, she's lured back into the fray, because otherwise there would be no movie, no external conflict to prompt her next step in self-evaluation. This is based on absolute reality." Spurring Bodine's decision is the opportunity to beat her rival, Pat Candy – played by fellow Oscar winner Billy Bob Thornton – who is with the opposition. "The (film's) message – yes, politics as a backdrop, but it is more about consequences, big business, how far is too far? Yet the film is a mildly frustrating endeavor, because we never get a substantive grip on what makes Jane tick, who she really is or why she does what she does. When you start harming others for power and extreme wealth, eventually you have to get off the carousel," Bullock said. "Who is going to grow a conscience and who is going to say enough money is enough money?

In fact, it is a fictional account of a presidential election in Bolivia during which two American political strategists — played by the 60-year-old Thornton and marquee star Sandra Bullock — face off in dirty tricks campaigns for competing candidates. She's a fistful of eccentric traits in need of some focus: she compulsively munches on potato chips, she prefers flood pants and sensible shoes, she has no qualms about dropping trou and mooning the opposition. Thornton says that the movie is both fun and insightful — but it will not change the world of politics and the backroom deals that many people find so distasteful. But politics made a fun backdrop because it is so real and in your face." Bullock won an Oscar for her role in the 2009 movie "The Blind Side," which tells the story of a family who takes in a teenage football player.

So, very tricky territory, but a good way to tell the story through the voice of a woman, and I'm just glad that they did." SANDRA BULLOCK: Well, I actually am an amalgamation of a few characters from the documentary. Jane is lured to Bolivia to re-animate presidential candidate Castillo's (Joaquim de Almeida) moribund campaign not by a greater ideal or even money, but for a chance to take down her longtime arch-rival Pat Candy (Billy Bob Thornton), who manages the opposition, and nurses a 28-point lead in the polls. The audience can make of that what they will, although American political junkies will probably think of James Carville, the brains behind Bill Clinton's 1992 presidential campaign. Scouts — starring Tye Sheridan, David Koechner, Cloris Leachman and Halston Sage — is being released by Paramount in the same way Paranormal Activity: The Ghost Dimension was: going out in a limited number of theaters after many cinema owners refused to carry both movies because of Paramount's deal with AMC and Cineplex to make the pair of genre titles available earlier than usual on VOD.

The promise of withering exchanges between Bullock and Thornton – both capable of stripping paint with a well-timed bon mot – goes unfulfilled, thanks to a pedestrian script more interested in the come-from-behind mundanities of the competitive race than exploiting the strengths of its cast. The failure of the three new offerings to rally sizeable business means that holdovers The Martian, Goosebumps and Bridge of Spies will continue to top the box-office chart. The film flirts with fleshing out Jane – she impulsively indulges in her wild side when she spends an evening bonding with Eddie (Reynaldo Pacheco), a young, idealistic Castillo staffer, and his brothers, imbibing heavily and sleeping it off overnight in jail. I didn't even think of Carville until I had done it, and now I do look like him!" Meanwhile, Thornton had played a slightly fictionalized version of Carville in another political comedy, Primary Colors, in 1998. After making several low-budget indie films" — his recent releases include "Prince Avalanche," "Joe" and "Manglehorn" — "it was exciting to be working with a huge movie star like Sandra." "I think that's going to be happening more and more with my films," Green said. "I'm starting to look at roles as gender-free.

But she's just brilliant at the devious side of politics, of press, of PR, of what-have-you. [She knows] how to convince the people they need something and then give it to them. Politics and Bolivia are just the backdrops." ▪ 15th Annual Kansas International Film Festival: Beginning Friday, this weeklong event features dozens of screenings of indie features, documentaries and animation from around the world, as well as the local premieres of such upcoming titles as "The 33," "Brooklyn," "I Saw the Light" and "Love the Coopers." At the Glenwood Arts.

Share this article: