Beyonce and Nicki Minaj have just dropped their video for Feeling Myself On Tidal
Beyonce and Nicki Minaj's Tidal exclusive leaked.
Beyonce and Nicki Minaj had a huge coup for Tidal by debuting their new video exclusively on the site – but internet hackers miffed at not having access to it leaked the video on YouTube. The highly-anticipated Feeling Myself video was available through Beyonce's husband Jay Z's new streaming service which Nicki has also been a strong supporter of. Taken from Minaj's 2014 album The Pinkprint, the video for Feeling Myself now comes with a cartoonish video accessible purely through Jay Z's music-streaming service, which has ruffled the online community considerably (as you can see here). A bad-quality version of Feeling Myself has now been taken down from YouTube, where Beyonce and Nicki's video was revealed to include them at Coachella, cooking, drinking and enjoying cheeseburgers together. The video follows the two stars as they live up to every Coachella-cliche, lounging around paddling pools, wearing flower garlands (and even a native american headdress in one shot), standing side of stage and generally basking in the glamour of an unrealistically sanitised festival experience.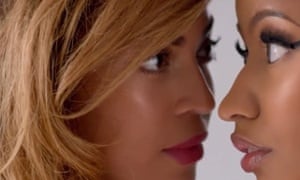 Share this article: