Ben Affleck's Batman battles the Joker on Suicide Squad set
Batman is back on the scene for 'Suicide Squad'.
Photos surfaced Thursday from the set of David Ayer's highly anticipated comic book flick that show a mysteriously dimple-chinned Batman hitching a ride on the Joker's pink sports car.Earnest anticipation for forthcoming superhero epic Suicide Squad appeared to be well justified on Wednesday evening as filming commenced on the streets of Toronto.
When Warner Bros announced a slate of 10 new superhero movies based on its rights to the DC Comics back catalogue last October, it's fair to say that Suicide Squad wasn't among the obvious highlights. The movie began production in Toronto in April and , 42, who will make his debut as the character in Zack Snyder's Batman v Superman: Dawn of Justice, was spotted on the set. Cast and crew were gathered for a pivotal outdoor scene in the Canadian city that involved a fast-paced battle between Batman and iconic nemesis The Joker. Most expected the Dirty Dozen-style antiheroes outing to be Warner's answer to Guardians of the Galaxy, a little-known proposition (outside superfan circles) which would allow the studio to rev its engine in a remote corner of the DC cinematic universe without too much fallout if fans didn't bite.

Jared Leto (starring as the green-haired super villain) appears behind the wheel in the photo, with his sidekick, Harley Quinn (played by Margot Robbie), riding shotgun. Also seen was Australian actress Margot Robbie – dressed in character as fictional supervillain Harley Quinn and seated in the rear of cohort The Joker's sleek red Infiniti G35. Following the announcement of a supremely starry cast, including Jared Leto as the Joker, Will Smith as Deadshot, Joel Kinnaman as Rick Flag and Margot Robbie as Harley Quinn, David Ayer's movie has begun to look a far more attractive proposition.

With cameras surrounding the action packed scene Batman actor Ben Affleck's stunt double leapt atop the moving vehicle and endeavoured to tear a hole in the roof. Warner Bros. has been silent on the speculation so far, but with DC Comics (which owns the rights to Batman and the Suicide Squad) looking to consolidate its movie universe – à la Marvel – there's a good chance we'll be getting two Batfleck appearances in 2016. The film follows a group of supervillains imprisoned in an asylum who are offered clemency by a secret government agency in return for carrying out covert black ops.

They are forced to take on blackops suicide missions for the US government in exchange for commuted sentences, which helps to explain why the Joker and his ilk never seem to be behind bars for long (though the clown prince of villainy is not known as a core member of the team in print). The footage shows Batmobile chasing the Joker's vehicle and Batman crouching on it as it's moving, shooting sparks from the top. "I believe in old school filmmaking," director David Ayer tweeted on Tuesday. "Real stunts. Back in January, Forbes reported that Batman's storyline in Suicide Squad would be linked to The Joker, paving the way for Jared Leto's incarnation of the iconic villain to appear in the planned standalone Batman movie. Batman has occasionally found himself getting caught up in the Suicide Squad's affairs, so there's nothing canonically wrong with Ayer introducing Bruce Wayne into proceedings. Cara Delevingne, Will Smith, Scott Eastwood, Adam Beach, Jai Courtney, Karen Fukuhara, Joel Kinnaman, Adewale Akinnuoye-Agbaje and Jay Hernandez also star.

Thank you #Toronto." Suicide Squad also stars Will Smith, 46, as Floyd Lawton, aka Deadshot, supermodel Cara Delevingne as Enchantress,Scott Eastwood, 29, as Steve Trevor, How to Get Away With Murder's Viola Davis, 49, as Amanda Waller, Joel Kinnaman, 35, as Rick Glagg and Australian Insurgent and Terminator: Genisys actor Jai Courtney, 29, as Captain Boomerang. The blond beauty stunned on the red carpet for the premiere in Los Angeles last night, where she wore a red strapless Christian Dior frock that accentuated her growing baby bump. News, and then mentioned that contrary to common belief, it's a little easier during round two with her baby boy around. "You know in a way it's made it kind of easier because I'm distracted," she explained. "Last time I was shooting until the day before I gave birth, so I was distracted by the series, and now that I have a son, I'm really spending all my time with him." However, King adds that she's now coming to terms with the fact that her love and attention is going to be split up. "You're realizing that you have to be present for one human being and still love another. With the director my husband @kyle_newman in and #JamesKnight in @livly_stockholm and @Lacoste;)." She often shows off her bare belly, telling her followers on Instagram, "I just love sharing with you that being pregnant is a celebration of style and sensuality (even when you feel like you're a narcoleptic and want to maybe punch someone and then throw up) #truthmama's I love you all so much!

And thank you to all the photographers who really care about capturing these magic moments…" However, she's not as open to sharing the sex and name of baby No. 2. Of course, this could all mean we've just about had enough of the caped crusader by the time Justice League parts one and two rollout around 2017 and 2019, but that hasn't happened so far with Marvel characters such as Iron Man.

The singer (and soon-to-be godmother) posted a video of her touching King's belly to feel the baby kick, and Jaime is heard saying, "He's sticking his arm up for you." Whoops! The newcomer's only shared universe effort so far is middling Superman reboot Man of Steel, while Marvel has already delivered half a dozen bona fide critical smashes.

Even though the video was uploaded in September, it's now starting to get some pickup and much-deserved recognition because it was just shared on Reddit—where yesterday's news goes to be revived! Very cool." She's also signed the Sarah McLachlan tearjerker "I Will Remember You" and Skillet's song "Sick of It." The "Lose Yourself" video won't be her last, either.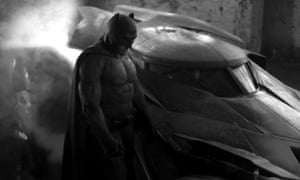 Share this article: