Barbra Streisand's long-awaited memoir will release in 2017
Barbra Streisand Is Writing a Memoir.
The iconic singer, actor, and director Barbra Streisand is tackling her own life story in a memoir that will be published in 2017, Viking announced Wednesday. "There are over fifty unauthorized biographies about Ms. Streisand that are full of myths and inaccuracies, and she is finally going to tell her own story," Viking's president and publisher Brian Tart said in a statement. In October 2014, Streisand became the first artist to top Billboard Hot 200 album chart in each one of the last six consecutive decades, most recently with album Partners. Streisand, 73, has been contemplating a memoir since at least 2009 when she told The Associated Press that she had been writing down thoughts and wondering whether she wanted to "relive" her life.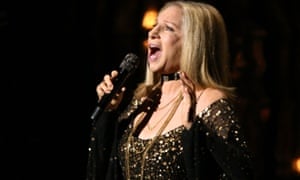 Streisand was represented by Washington attorney Robert Barnett, best known for handling book deals for US President Barack Obama, former President Bill Clinton and many other politicians and public figures.

Share this article: