B.B. King Honored at Mississippi Funeral, President Barack Obama and Bill …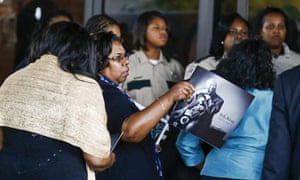 BB King's funeral draws hundreds as Obama says country 'has lost a legend'.
Hundreds of people filled a church in the Mississippi Delta for the funeral on Saturday of BB King, who rose from sharecropper in the area's flat cotton fields to worldwide fame as a blues singer and guitarist who influenced generations of entertainers.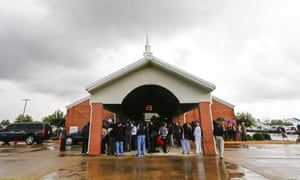 More than 200 people who couldn't get into the sanctuary watched a live broadcast of the funeral in the church's fellowship hall, many waving hand-held fans with a black-and-white photo of a smiling King hugging his black electric guitar, Lucille. At the beginning of the service, family members filed past King's open casket, which had an image of Lucille embroidered on the padded white cloth inside the lid. On the way into the church, Mississippi governor Phil Bryant recalled spending time with King in the bluesman's tour bus before a concert last year in Indianola. He gets stuck in your head, he gets you moving, he gets you doing the things you probably shouldn't do – but will always be glad you did. "For a man coming out of the cotton field unlearned and you take his music and draw four corners of the world together – that is amazing," Willie King said on Friday at the museum, where his father will be buried. King's public viewing Friday was almost like a state funeral, with Mississippi Highway Patrol officers in dress uniform standing at each end of the casket.

King Museum clapped as they sang gospel songs, including one with the chorus: "Let's all get together, bring peace to the world." "The blues has lost its king and American has lost a legend," Obama said. "No one worked harder than B.B.

Share this article: