'An Act of God' review: Jim Parsons divine as the Man Upstairs
An Act of God review – Jim Parson plays the deity.
Unevenness isn't next to godliness. With the opening of Broadway comedy "An Act of God," Jim Parsons joins the venerable pantheon of actors who have taken on the almighty role of, well, The Almighty. "It's like having a mild drug trip, completely sober, for an hour and a half," Parsons said after the production's May 28 opening at Studio 54. "It's as much fun and as much terror as I've ever had at one time." "An Act of God" opened at the height of the Broadway awards season, but it won't be part of the trophy race in this year's ceremony.

NEW YORK — Near the end of the new Broadway comedy An Act of God (**1/2 out of four stars) the archangel Michael rips into his boss. "Why is there suffering?" Michael demands of God. "Why is there so much injustice? Or rather, if one believes the explanation offered by God at the start of this comedy by former Daily Show head writer David Javerbaum, He has chosen to inhabit the form of "beloved television star" Jim Parsons. "The irony of him starring in a show called The Big Bang Theory—I couldn't resist!", it is explained early on. It opened after the 2014-15 season's eligibility cutoff — blame the availability window of an Emmy-winning actor on hiatus from "The Big Bang Theory" — so it'll have to wait until next year's ceremony to have a go at the awards. Partly because He wants to speak directly to the Jewish people (that's God's stereotype, not mine) and partly to dispense a new Ten Commandments, God having grown weary of the original bunch "in exactly the same way that Don McLean has grown weary of 'American Pie' ".

Having proved his mettle as a gay activist in "The Normal Heart," then a hallucinating eccentric in "Harvey," both on Broadway, Parsons is the reason why this extended skit made it onto the Great White Way. This second set of rules, whose unveiling comprises the bulk of the 90-minute show, features holdovers such as "You Shalt Have No Other Gods Before Me," and newbies, such as the pro-gay sex "Thou Shalt Not Tell Others Whom To Fornicate," but all inspire humorous ruminations which collectively cover an extremely disparate array of topics. And the show's giving him a God complex — in the best possible way, at least for an actor. "Literally, an actor can do no wrong in this part," he said. " 'I'm playing God.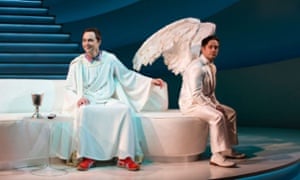 For others, it will simply be one of several awkward moments in a play that tries to blend irreverent humor with social commentary and, well, doesn't always succeed. Delivering a new and improved set of Commandments, as transcribed by the man we might call the Moses de nos jours, David Javerbaum, who wrote the show and the book that inspired it, God is really killing it up there.

But this play is merely a glorified Top 10 list in which God gives us his revised Commandments — a natural format for playwright David Javerbaum, a former "Daily Show" writer who's now a producer on "The Late Late Show With James Corden." To present his new rule book, God is assisted by two archangels, or "Genesistants": Gabriel (Tim Kazurinsky), who paws a Gutenberg Bible, and Michael (Christopher Fitzgerald), who fishes planted questions from the audience. Accompanying him are the archangels Gabriel and Michael, played by Tim Kazurinsky and Christopher Fitzgerald, wearing wings and the pained expressions of divine underlings who all too often have suffered the idiosyncratic wrath of the Almighty. He's a junkie for the "visceral, electric" thrill the stage gives him. "It feels like home," he said. "But home isn't usually this unpredictable!" Javerbaum's writing is clever and quirky, and Parsons shows off impressive energy and distinctive, off-kilter charm in the 90-minute piece, aided only by a pair of archangels.

Furthermore, "Thou shalt not kill in My name," and "Thou shalt not seek a personal relationship with Me." You get the idea: Javerbaum is targeting moral hypocrisy and holier-than-thou behavior. If God really is in the house, would it have killed the Supreme Being who whipped up the Earth and sky to produce a few dancing girls, metaphorical or otherwise?

The set by Scott Pask features the title character lounging at the bottom of what looks like a stairway to heaven designed by James Turrell, with rings of light that change color to evoke celestial peace or, at one point, fiery hell. When Michael wonders why the Almighty doesn't always reward the good or punish the evil, the deity gets cranky: "I totally hear what you're saying," he says. "I just prefer mysterious ways, all right?" Michael presses his case — "Where were you during the Holocaust? Parsons's gift for withering contempt is ideal for the playwright's conception of a haughty heavenly father with communion-wafer-thin patience for an assortment of human frailties.

God does have a couple of helpers in the literally angelic forms of Christopher Fitzgerald's audience-roaming Michael and Tim Kazurinsky's Commandment-announcing Gabriel. In between casual, raconteur-style musings by Parsons as God, we're treated to glimpses of a stereotypical cinematic Almighty, complete with booming voice.

Act's title character is also problematic; Javerbaum's God is a comic tyrant, albeit one who can wax earnest and tender, and who ultimately advocates humanism. But this is still essentially a stand-up routine—make that a sit-down one, given the amount of time God spends lounging on a sofa on the spare, all-white set. That's as edgy as the show gets: Its safe references and consensual politics make the crowd-pleasing musical "The Book of Mormon" look like a sacrilegious revolutionary tract. Javerbaum, who has based the show on a book and Twitter feed he runs under the same persona, @TheTweetofGod, takes on such topics as how God created the world in a week, what really happened in the Garden of Eden and on Noah's Ark and what it's like for God to be a father. Sample tweet: "Don't take this the wrong way, but I regret you as a species." The play is a long-form diatribe on this point; 90 minutes proves more than sufficient to the task.

Along the way, God, telling us he's deliberately appropriated Parsons's form for the occasion, uses this corporeal conveyance to lay down a topically updated Ten Commandments. As Michael, Fitzgerald becomes increasingly frustrated with his boss as he asks some of the biggest, most popular puzzlers, for example, "why do bad things happen to good people?" and "what about evolution?" This is clearly a deity who created man in his image, flaws and all – but God's are magnified to the level of his power.

Under Mantello's witty, playful direction, he establishes an easy, knowing rapport with the audience — and with Christopher Fitzgerald and Saturday Night Live alumnus Tim Kazurinsky, who respectively play Michael and the meeker Gabriel. In addition to handing down these new laws, God riffs widely on humankind's dunderheaded and destructive behavior, specifically the way his words and actions have been misinterpreted over the millennia, causing no end of pain and strife. As with the scientist he plays on TV, complex phrases roll easily off his tongue, and he speaks with authority while maintaining an approachable quality. This is a God who also dishes on Kanye and the Kardashians (targets that are getting old) and, in one of the better bits, makes a convincing argument for the illogic of Noah being able to fit two of every animal on a boat. While the "Act" is reliably amusing, as we get to know this version of God – one who repeatedly insists that there is something really wrong with him – some jokes become predictable.

There's something about the weary vigilance Parsons projects that gives compelling freshness to this kind of standard-issue Biblical demystification. It's funny, too, when Parsons, with impeccable timing, reveals that God is able to turn off his omniscience so he can enjoy movies such as "The Sixth Sense," whose ending, he says, he didn't see coming. Political leanings and cultural tastes are pretty clear – this show is not for fans of Ted Cruz, Sarah Palin or Adam Sandler – and its statements on issues such as gay marriage are probably falling on the ears of the converted. As celestial talk shows go, the one Parsons hosts on Broadway will satisfy his fans and provide diversion enough for those who don't count themselves worshipers of his sitcom.
But considering the number of believers there are in both Parsons' unflaggingly excellent delivery and a style of humor that should suit "Daily Show" viewers, there shouldn't be a problem in getting God a full house. Directed by Joe Mantello; set, Scott Pask; costumes, David Zinn; lighting, Hugh Vanstone; sound, Fritz Patton; special effects, Gregory Meeh; projections, Peter Nigrini. As God tells it: "And so Steve ate of the tree; and he bid Adam eat of it; and the knowledge that their lifestyle was sinful shamed them; whereupon they grew embarrassed, and cloaked themselves in fig leaves, the first clothing, which represented the entirety of the fall collection." To ease their guilt, God made Steve into Eve, after a simple operation. (Cue a Bruce Jenner joke, which is alone worth the price of admission.) Contrary to what some believe, God does not hate gays. "Gay, straight, bisexual, transgender; thou art all equally smitable in my eyes," as he puts it bluntly if sweetly. Javerbaum's annotation of the Scriptures and gather a chuckle, so deliriously funny is he as a sort of amateur theologian and stand-up comedy genius rolled into one. With his sly smile and his sparkly eyes, he delivers the zingers with an easy grace, giving a nice silky consistency to shtick that, in more aggressive hands, might grow oppressive.
He handles the pseudo-biblical language as if it comes as naturally to him as the nerd-speak he spouts on television, looking down upon us with an air of benevolent affection, like a really caring therapist, but one who prefers to talk about himself.
Share this article: