Amy Winehouse documentary screened
Acclaimed Amy Winehouse doc looks beyond the addict.
Celebrity-worshipping Cannes got a sobering reminder of fame's dark side Saturday with Amy, a powerful documentary about the late singer Amy Winehouse. "I don't think I'm going to be at all famous," a teenage Winehouse says at one point in the film by British director Asif Kapadia. "I don't think I could handle it." Musician Yasmin Bey, formerly known as Mos Def, performed at a party before the premiere, along with jazz singer Gregory Porter and new artist Cosmina. "I'm doing the songs that Amy never heard but I know she would like," said Bey, who sprinkled rose petals on the floor in her honour. "This one's for you baby girl." Kapadia, who made the acclaimed documentary Senna about Formula 1 driver Ayrton Senna — another star who died young — interviewed 80 of Winehouse's friends, family and collaborators for the film, layering their words over footage of the musician from childhood onwards. Every now and then in Camden in the early 2000s you'd see a mob of photographers moving like a single ball of flashing fire, and you'd know Amy Winehouse was in there somewhere.CANNES, France – The director of an acclaimed new documentary about Amy Winehouse, premiering in Cannes on Saturday, said he hoped the film would shatter the image of a hopeless junkie that has dogged the singer since her death. "That's exactly why I needed to make the film, because — what a horrible thing to say about a kid.Vocal powerhouse Amy Winehouse dominated the 2008 Grammys with her album "Back to Black." Three years later she was dead from alcohol poisoning compounded by drug addiction. Winehouse emerges as a vibrant personality whose soulful voice and intensely personal lyrics made her a star, but whose struggles with depression, bulimia, drugs and alcohol were worsened by the pressures of sudden fame.

At the time she appeared to have been roughly drawn in hair and Rimmel, but strong in the way a cartoon is strong, like anvils could fall on her and she'd be fine, once the birds had stopped circling. Even in advance of its world premiere this weekend in a midnight screening at the Cannes festival, the film – worthy of five stars by any critical measure – has been dogged by controversy. There's a bit towards the beginning of the new Amy Winehouse documentary (it premiered yesterday in Cannes) when her father, Mitch, remembers the time her friends were urging him to send her to rehab. Amy's father, Mitch Winehouse, has spoken on British television about his unhappiness with the documentary, which he claims is unbalanced and misrepresents his own role in his daughter's life.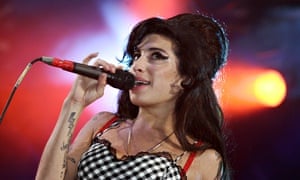 They recently criticised the film, calling it "unbalanced" and saying it suggests family members did too little to help the singer overcome her addictions. Kapadia also deploys a wealth (if that's the word) of ostensibly private cellphone video footage, home movie stuff, shot in cars, backstage, at her home in Camden when she was deep into crack cocaine. "Amy" in its totality is a film about a woman who rarely enjoyed an un-filmed moment in her 27 years. One of the great strengths of Amy, though, is that it doesn't indulge in simple-minded accusations about who may or may not have been responsible for Winehouse's untimely death. Without a heavy hand, Kapadia's "Amy" depicts a musical phenomenon afflicted with a father who saw nothing wrong with dragging a reality-TV crew with him to visit his daughter in recovery. There were many contributory factors: her parents' separation; her lifestyle when she moved to Camden; the wayward influence of her ex-husband Blake Fielder-Civil; the pressure of the enormous fame that came with her second album Back to Black; her often appalling treatment at the hands of the media and her own self-destructiveness.

This is not an easy train wreck to watch, but it actually says something about how we package, revere, undermine and chew through all sorts of talent today. Seeing the film at Cannes, the epicenter of paparazzi-infested media attention this month, added another layer of irony to this cautionary tale. "Amy" played out of competition. Although Amy's husband Blake is cast convincingly as the villain, first introducing her to heroin and then keeping her using, her dad appears at best ignorant of his daughter's best interests, at worst exploitative – when she escaped to St Lucia to get clean, he turned up with a Channel 4 documentary crew. In competition, and worthy of it, was Todd Haynes' "Carol," starring Cate Blanchett and Rooney Mara in screenwriter Phyllis Nagy's adaptation of the 1952 Patricia Highsmith novel "The Price of Salt." The press screening Saturday evening was greeted warmly, and jury co-presidents Joel and Ethan Coen may be favorably inclined to go with Blanchett for best actress next weekend.

But that also meant that Winehouse had to work through her demons in the full glare of the tabloid press, and "Amy" serves as a savage indictment of the paparazzi who hounded her. "The journey from there to the loneliness of her looking into the paparazzi lens and being so afraid — it was a very short space of time." — Agence France-Presse Haynes's previous period dramas include the HBO miniseries "Mildred Pierce" and, flooded with its visual ardor for Douglas Sirk melodramas, "Far From Heaven." The latter clearly provided Haynes with a few signposts regarding "Carol," which exists as a period piece in the realm where forbidden desires meet highly color-coded and meticuliously coiffed post-World War II fashion statements. The legendary crooner Tony Bennett, with whom Winehouse collaborated late in her career, puts the best perspective on the problems that faced Winehouse as a performer.

I cringe today at the carelessness of silly jokes, because now, looking back at that life and rare painful talent, it looks awfully as though, if she had only been left alone, with just a fag and her voice, playing to the small jazz crowds she says she craved, she would have lived. That said, Blanchett is so spectacular in a key late scene, set in a lawyer's office, the performance becomes a different performance, and the film becomes a different, subtler, richer sort of film. The singer called her old friend out of the audience, they went backstage together and Winehouse blithely confided: "This is so boring without drugs." It is easy to understand why Mitch is upset by the film. "My dad was never there," says his daughter of her childhood. It's the story of 38-year-old Joyce Vincent, whose body was found in 2006 decomposing in her bedsit in Wood Green after she died unnoticed three years earlier, surrounded by Christmas presents.

Others question his decision not to put her into rehab in 2005 and there is an excruciating scene in which he turns up in St Lucia, where she is trying to hide away, with a camera crew in tow. While Vincent was a solitary, elusive woman, Winehouse was never alone – she was worth too much money to be left to walk down Parkway by herself – and yet the feeling you get when you reflect on their lives and deaths is similar. In the Amy documentary, much of the footage looks like it was filmed by the paparazzi, which, as we see her through that blaze of flashes, adds an uneasy complicity.

Share this article: