'American Horror Story: Hotel' Recap: A Honeymoon Turns Bloody in 'She Wants …
'American Horror Story: Hotel' Recap: Don't Call The Countess' Son 'Ugly'.
"American Horror Story: Hotel" undoubtedly has countless balls in the air at this point in the season. After last week's fantastic revelation that John Lowe (Wes Bentley) is indeed The 10 Commandments Killer (and BTW, where the bloody hell was he this week?Two characters learned their lesson, one of them a little too late, in the latest 'American Horror Story: Hotel.' Please note that there are major spoilers ahead if you are not caught up to the series. Living a third, yet to be announced life?), the focus pivoted back to The Countess, James March and poor, sad, ultimately devoured Will Drake, who did indeed soil his suit. Now that we know who The Ten Commandments Killer is (and what a shocker that was…not), American Horror Story: Hotel's focus on The Countess is back!

One of the more interesting aspects of the season was the fact that for the first time during the series, this season actually connected to a previous one. That 20-year flashback of Ramona caring for her poor father, who suffered from both dementia and the ancient blood virus (BAD combo!), gave her character far more dimension. With the departure of Jessica Lange, Paulson has become American Horror Story's most regular leading lady, but back in Season 1 her part was relatively tiny. Not only did the same Realtor from the first season of show up not once, but twice at the Hotel Cortez, but there was also the episode that showed the Countess going to the Murder House to meet the abortionist.

She played Billie Dean Howard, alleged psychic and close friend to Lange's Constance Langdon, and according to Entertainment Weekly, Billie Dean is coming back. Also worth noting: If your body is infected with measles, apparently you shouldn't feed your blood virus blood to all your classmates because when they don't feed, they get measles , too. (This storyline could NOT be more disturbing.) James March MUST Go Down. Reprising characters is something that creator Ryan Murphy has played with a little bit in seasons past, but as the show goes on, the threads between the seasons seem to grow even more tangled. Ironically liberated by the blood virus, she explains that she's tired of being an enabler, and the victims of her new mindset are a couple of pornstars who go to the hotel for a shot.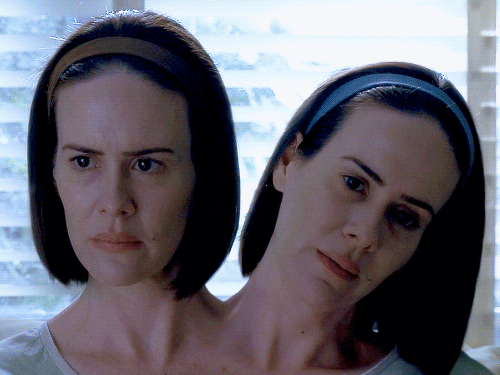 John Lowe will complete March's 10 Commandment Killings, giving March no reason to hang on, and allowing him to GTFO of Hotel Cortez, where he is passionately hated by all. And that could lead to a new owner/HKIC (Head Killer in Charge): Perhaps John Lowe and he can live there disgustingly ever after with Alex and Holden. LINE OF THE NIGHT: Liz objecting at The Countess and Will Drake's wedding. "Ahhh yeah, because she's a bitch with no conscience, no mercy, no soul?" Denis O'Hare = killing it. Ramona gets Will Drake to free her, only to kill him and drink his blood as, you guessed it, Miss Evers watches with an "I told you so" look on her face. She's distracted Natasha by giving her a credit card and allowing her to run free through Beverly Hills, something that must be liberating for someone who has been locked in a hotel for decades.

In a small ceremony in the hotel lobby, the Countess enters wedded bliss with Will, despite Liz's protests to stop the wedding "because she's a bitch." But all is far from well in paradise.

Share this article: