'Aloha' movie draws disapproval for using Hawaiian word for title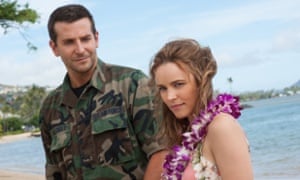 Cameron Crowe's 'Aloha' Criticized for Depicting "Whitewashed" Hawaii.
After a four-year absence, Cameron Crowe is making a return to the big screen with a star-studded romantic comedy, but it seems not everyone is happy to see him back.The Bradley Cooper-Emma Stone film "uses Hawaii for its exotic backdrop but goes out of its way to exclude the very people who live there," according to an advocacy group.
His new film Aloha has come under fire for "whitewashing" its view of Hawaii with a cast that includes Bradley Cooper, Emma Stone, Rachel McAdams and Alec Baldwin. It's an insult to the diverse culture and fabric of Hawaii." The film has had a troubled post-production, with rumoured reshoots and heavy editing required. An Aloha source tells The Hollywood Reporter that no member of MANAA has yet to see the film or read the script and that the film's storyline centers on the spirit of the Hawaiian people.
Share this article: