5 questions that need answering from Adele's 'Hello' music video
11 people coming to terms with Adele using a flip phone in the Hello video.
After a hiatus that everyone can agree was entirely too long, Adele has cackled her way back to the surface and quenched the tearjerking-song thirst in everyone's life with the release of her newest single, "Hello." In short, it's a life-ruiner. Adele's stunning video for her comeback single Hello might have taken the world by storm – but it has left viewers with just one question: just why is she using a flip phone?Following a brilliantly ambiguous commercial during last week's episode of The X Factor UK, "Hello," Adele's lead single from her forthcoming album 25, has finally landed—and people cannot (and should not) stop fawning over it. Yes folks, you can't have failed to notice the moment when the elusive singer shuns smartphone technology in favour of something altogether more last decade.
Aside from joining the canon of legendary James Bond theme-song singers with "Skyfall," Adele hasn't graced us with new music in more than three years. To the surprise of absolutely nobody, the move didn't go unnoticed on social media – sparking a fierce debate over just why Adele had made the move back to flip phone technology.
So pardon us as we savor every lyric, and, more to the point, every frame of "Hello." In terms of music videos, Adele is clearly a champion of quality over quantity. Adele not only took it upon herself to finally release new music on Friday, Oct. 23, but also did us a solid by casting 90210's as her love interest in her new music video, "Hello." That's right, Dixon Wilson from the CW reboot is the hottie in Adele's video. In the short YouTube clip, Richie calls Adele, who answers — obviously with a "hello" — on her flip phone, only to then hang up on the original 1983 "Hello" crooner.
Yes, after several hours of discussion the video's director Xavier Dolan explained: 'The use of flip-flop phones is coherent with the rest of my work, 'Same for cars. Over the course of her previous LPs, there have been only six music videos: 19 brought us "Hometown Glory," "Make You Feel My Love," "Cold Shoulder," and "Chasing Pavements," and 21, Adele's chart-shattering breakout, produced "Rolling in the Deep" and "Someone Like You." Those are some dismal numbers, people. In honor of Wilds — and his adorable smile and even more adorable frown in the video — we decided to give a shout-out to other music video hunks from 2015's biggest hits. But we're left with a number of questions afterward—some real nail-biters that should be addressed, discussed in an open forum, and eventually, answered: There's a good chunk of time that passes before the music actually starts.
And, of course, we couldn't forget our honorable mention, Tom Hanks, whom Carly Rae Jepsen included in her "I Really Like You" video. (In case you're confused, Hanks is friends with Jepsen's manager, Scooter Braun, and they thought it would be funny if it was someone "unexpected.") The Brit took a break from recording music after welcoming her son, Angelo, with fiancé Simon Konecki, in October 2012. "I was struggling to write my record, so it all slowed down," she explained during an interview with BBC Radio 2 on Friday. "Obviously, I took a bit of time off because I became a mum. Some might even hypothesize that in the time that Adele has been away, her powers have strengthened so much that just the lifting of her eyelashes can start music.
Like so many artists before you, you've transformed just about every stage of a relationship into anthems that speak directly to the butterflies of first love, the bumpy road after the honeymoon phase wears off, and those moments when you're just lying on the cold, hard ground. As any bored child left in an office space between the years of 1984 and 1997 knows, this is actually used to store contacts—in this case, it presumably holds the contact information of all the second-rate suitors that have vaguely assisted Adele in collecting her seven million Grammys. I'm not sure that anyone has a landline anymore, and more specifically, I wasn't aware that you can just waltz into an abandoned house and pick up a phone with a landline that works.
But I'd like to posit two theories as to what may justify the low-tech decision: A) Adele doesn't seem to be the most tech-savvy artist out there. The video is full of antiquated phones, and if we dare to get creative, it could be because this relationship shares some qualities with telephone equipment she's using: It's old, outdated, and kind of confusing. In the words of another English lady, "Anything can happen," so it's not an absurd notion that Adele's voice singularly caused a woodland tornado. B) Which is more dramatic to you: clicking and holding the off button on an iPhone and then swiping "Slide to power off," or simply slamming a phone shut with one swift clasp of your hand?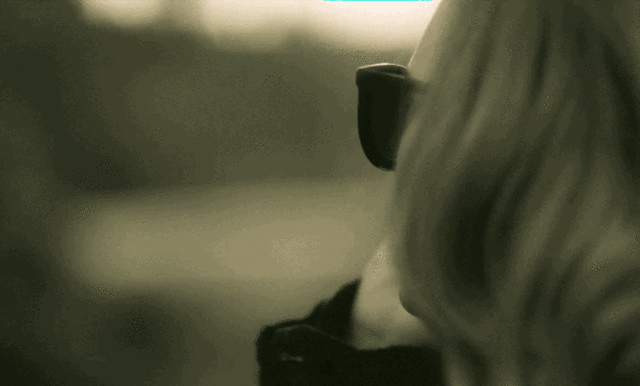 Share this article: